m

(Some edits.)

Line 2:
Line 2:
 
 
 

==About the Song==

 

==About the Song==

−

The song is often considered to be Warren's epitaph on the life he had led. Although not entirely self-referential, much of the song's imagery can be thought of as metaphors for Warren Zevon's life. The song is sung in a fashion similar to country-western music (much in the same way that "[[Rub Me Raw]]" is sang in a blues style), and ends with Warren asking "Who'll lay me out and ease my worried mind, while I'm winding down my dirty life and times?"

+

The song is often considered to be Warren's epitaph on the life he had led. Although not entirely self-referential, much of the song's imagery can be thought of as metaphors for Warren Zevon's life. The song is sung in a fashion similar to country-western music (much in the same way that "[[Rub Me Raw]]" is sang in a blues style), and ends with Warren asking "Who'll lay me out and ease my worried mind, while I'm winding down my dirty life and times?"

 
 
 

The song's title was later reused for [[Crystal Zevon]]'s biographical work ''[[I'll Sleep When I'm Dead: The Dirty Life and Times of Warren Zevon]]''.

 

The song's title was later reused for [[Crystal Zevon]]'s biographical work ''[[I'll Sleep When I'm Dead: The Dirty Life and Times of Warren Zevon]]''.

Line 8:
Line 8:
 

== Song Lyrics ==

 

== Song Lyrics ==

 

{{Lyrics Copyright}}

 

{{Lyrics Copyright}}

 
+

[[Image:Biography.png|150px|thumb|right|Biography]]

 
 
 

Some days I feel like my shadow's casting me

 

Some days I feel like my shadow's casting me
---
Revision as of 22:28, 2 March 2010
"Dirty Life and Times" is the opening song on Warren Zevon's last album, The Wind.
About the Song
The song is often considered to be Warren's epitaph on the life he had led. Although not entirely self-referential, much of the song's imagery can be thought of as metaphors for Warren Zevon's life. The song is sung in a fashion similar to country-western music (much in the same way that "Rub Me Raw" is sang in a blues style), and ends with Warren asking "Who'll lay me out and ease my worried mind, while I'm winding down my dirty life and times?"
The song's title was later reused for Crystal Zevon's biographical work I'll Sleep When I'm Dead: The Dirty Life and Times of Warren Zevon.
Song Lyrics
Note: the text of this song's lyrics is not under the same copyright license as the wiki's encyclopedic text, it is used under fair use/dealing.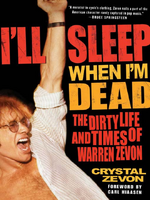 Some days I feel like my shadow's casting me
Some days the sun don't shine
Sometimes I wonder what tomorrow's gonna bring
When I think about my dirty life and times

One day I came to a fork in the road
Folks, I just couldn't go where I was told
Now they'll hunt me down and hang me for my crimes
If I tell about my dirty life and times

I had someone 'til she went out for a stroll
Should have run after her
It's hard to find a girl with a heart of gold
When you're living in a four-letter world

And if she won't love me then her sister will
She's from Say-one-thing-and-mean-another's-ville
And she can't seem to make up her mind
When she hears about my dirty life and times

Some days I feel like my shadow's casting me
Some days the sun don't shine
Sometimes I wonder why I'm still running free
All up and down the line

Gets a little lonely, folks, you know what I mean
I'm looking for a woman with low self-esteem
To lay me out and ease my worried mind
While I'm winding down my dirty life and times

Who'll lay me out and ease my worried mind
While I'm winding down my dirty life and times
See Also