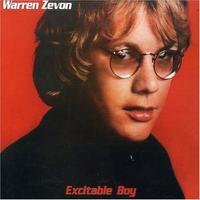 Excitable Boy is the third album by Warren Zevon, released in 1978. It includes the top 40 hit "Werewolves of London." It is the highest-selling album of Zevon's career. A remastered and expanded edition was released in 2007.
The album includes several songs that use dark humour ("Excitable Boy," "Werewolves of London"), as well as some songs that take place in locales outside the United States, ("Veracruz"), and two songs that both use dark humour and take place in countries other than the U.S.A. ("Roland the Headless Thompson Gunner," "Lawyers, Guns and Money"). In addition, there are two straightforward ballads about life and relationships ("Accidentally Like a Martyr" and "Tenderness on the Block").
Track listing
[
]
All songs written by Warren Zevon except as noted.
"Johnny Strikes Up the Band" – 2:49
"Roland the Headless Thompson Gunner" (David Lindell, Zevon) – 3:47
"Excitable Boy" (LeRoy Marinell, Zevon) – 2:40
"Werewolves of London" (Marinell, Waddy Wachtel, Zevon) – 3:27
"Accidentally Like a Martyr" – 3:37
"

Nighttime in the Switching Yard

" (Jorge Calderón, Lindell) – 4:15
"

Veracruz

" (Calderón, Zevon) – 3:30
"

Tenderness on the Block

" (Jackson Browne, Zevon) – 3:55
"Lawyers, Guns and Money" – 3:29
Bonus Tracks (2007 reissue)
[
]
"I Need A Truck" (Outtake) — 0:50
"Werewolves of London" (Alternate version) (Marinell, Wachtel, Zevon) — 3:41
"Tule's Blues" (Solo Piano Version) — 3:13
"

Frozen Notes

" (Strings Version) — 1:59
Personnel
[
]
Warren Zevon – organ, synthesizer, bass, guitar, piano, keyboards, Vocals
Jorge Calderón – vocals, harmony vocals, Spanish vocals on "Veracruz"
Danny "Kootch" Kortchmar - guitar, percussion
Russ Kunkel – drums
Additional personnel
[
]
Karla Bonoff – vocals, harmony vocals on "Accidentally Like a Martyr"
Jackson Browne – guitar, vocals, harmony vocals
Luis Damian – jarana on "Veracruz"
Kenny Edwards – bass, harmony vocals
Mick Fleetwood – drums on "Werewolves of London"
The Gentlemen Boys – vocals
Arthur Gerst – harp, Mexican harp
Bob Glaub – bass
Jim Horn – recorder, saxophone
Greg Ladanyi – bells
Rick Marotta – drums
John McVie – bass on "Werewolves of London"
Jeff Porcaro – percussion, drums on "Nighttime in the Switching Yard"
Linda Ronstadt – vocals, harmony on "Excitable Boy"
Leland Sklar – bass
J.D. Souther – vocals, harmony
Manuel Vasquez – requinto on "Veracruz"
Richard Wachtel – guitar, vocals
Waddy Wachtel – synthesizer, guitar, harmony vocals
Jennifer Warnes – harmony vocals on "Excitable Boy"
Linda Warnes – vocals
Charts
[
]
Album
| Year | Chart | Position |
| --- | --- | --- |
| 1978 | Billboard Pop Albums | 8 |
Singles
| Year | Single | Chart | Position |
| --- | --- | --- | --- |
| 1978 | "Werewolves of London" | Billboard Pop Singles | 21 |
Certifications
[
]
| Organization | Level | Date |
| --- | --- | --- |
| RIAA – U.S. | Gold | April 17, 1978 |
| CRIA – Canada | Gold | June 1 1978 |
| RIAA – U.S. | Platinum | November 7, 1997 |
External Links
[
]
---
<< Warren Zevon | Bad Luck Streak in Dancing School >>