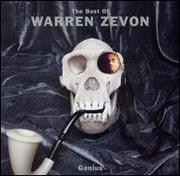 Genius: The Best of Warren Zevon is an compilation rock album by Warren Zevon, released in 2002.
Track Listing
Edit
"Poor Poor Pitiful Me" (Zevon) – 3:05
"The French Inhaler" (Zevon) – 3:46
"Carmelita" (Zevon) – 3:34
"Hasten Down the Wind" (Zevon) – 2:59
"Werewolves of London" (Marinell, Wachtel, Zevon) – 3:26
"Roland the Headless Thompson Gunner" (Lindell, Zevon) – 3:44
"Excitable Boy" (Marinell, Zevon) – 2:39
"Lawyers, Guns and Money" (Zevon) – 3:30
"Interlude No.1/Play It All Night Long" (Zevon) – 3:17
"A Certain Girl" (Naomi Neville) – 3:06
"Looking for the Next Best Thing" (Edwards, Marinell, Zevon) – 3:37
"Detox Mansion" (Calderón, Zevon) – 3:13
"Reconsider Me" [Single Version] (Zevon) – 3:26
"Boom Boom Mancini" (Zevon) – 4:48
"Splendid Isolation" (Zevon) – 4:28
"Raspberry Beret" (Prince) – 3:53
"Searching for a Heart" (Zevon) – 4:16
"Things to Do in Denver When You're Dead" (Marinell, Wachtel, Zevon) – 2:52
"Mr. Bad Example" (Calderón, Zevon) – 3:21
"Mutineer" (Zevon) – 3:16
"I Was in the House When the House Burned Down" (Zevon) – 3:03
"Genius" (Klein, Zevon) – 5:01
"Splendid Isolation" was covered on Pete Yorn's 2006 album Nightcrawler.
Personnel
Edit
Musicians
Production

Warren Zevon: synthesizer, harmonica, piano, keyboards, electric piano, vocals, synthesizer strings
Bill Berry: Drum kit|drums
Charlie Bisharat: violin
Roy Bittan: piano
Jackson Browne: harmony vocals
Peter Buck: guitar
Lindsey Buckingham: harmony vocals
Linda Ronstadt: harmony vocals
Rosemary Butler: harmony vocals
Jorge Calderón: guitar, harmony vocals
Mike Campbell: guitar
Larry Corbett: cello
Joel Derouin: violin
Kenny Edwards: harmony vocals
Don Felder: guitar
Anton Fig: drums
Mick Fleetwood: drums
Glenn Frey: rhythm guitar, harmony vocals
Bob Glaub: bass
Richard Hayward: drums
Don Henley: harmony vocals
Jim Horn: saxophone
Jim Keltner: drums
Bobby Keyes: saxophone
Larry Klein: bass
Craig Krampf: drums
Russ Kunkel: drums
Kipp Lennon: harmony vocals
Mark Lennon: harmony vocals
Michael Lennon: harmony vocals
David Lindley: fiddle, guitar, slide guitar, lap steel guitar
Rick Marotta: drums, harmony vocals
John McVie: bass
Mike Mills: bass
Graham Nash: harmony vocals
Jeff Porcaro: drums
The Sid Sharp Strings: choir
Leland Sklar: bass
J.D. Souther: harmony vocals
Benmont Tench: organ
Waddy Wachtel: guitar, harmony vocals, 12 string acoustic guitar
Jennifer Warnes: harmony vocals
Winston Watson: drums
Evan Wilson: viola
Jai Winding: piano
Neil Young: harmony vocals
Larry Zack: drums
Jordan Zevon: harmony vocals

Compilation Producers: Warren Zevon, Gary Peterson
Producers: Warren Zevon, Duncan Aldrich, Niko Bolas, Jackson Browne, Paul Q. Kolderie, Greg Ladanyi, Sean Slade, Andrew Slater, Waddy Wachtel
Engineers: Duncan Aldrich, Niko Bolas, Richard Bosworth, Matt Chiaravaslle, John Cutler, Michael Delugg, Marc DeSisto, John Haeny, Andy Jackson, Rob Jacobs, Dennis Kirk, Paul Q. Kolderie, Greg Ladanyi, Richard Landers, Michael McDonald, Tim Mulligan, Kent Nebergall, Jim Nipar, Fritz Richmond, Rail Jon Rogut, Will Schillinger, Sean Slade, Noah Scot Snyder, Bob Vogt
Mixing: Warren Zevon, Duncan Aldrich, Rob Jacobs, Rob Jaczko, John Beverly Jones, Dennis Kirk, Greg Ladanyi, Noah Scot Snyder, Shelly Yakus
Remastering: Teresa Caffin, Bill Inglot
String Arrangements: Warren Zevon
Product Manager: Mike Engstrom
Project Assistant: Randy Perry
Art Direction: Warren Zevon, Hugh Brown
Design: Bryan Lasley
Art Design: Hugh Brown
Photography: Warren Zevon, Hugh Brown
Licensing: John Austin
Editorial Supervision: Cory Frye
Liner Note Coordination: Tim Scanlin
Liner Notes: William Lee Self
Album
Year
Chart
Position
2003
The Billboard 200
168
2003
Top Internet Albums
168
---
<< My Ride's here | The Wind >>
<< I'll Sleep When I'm Dead (An Anthology) | The First Sessions >>
Community content is available under
CC-BY-SA
unless otherwise noted.