m

 

Line 3:
Line 3:
 

== About the Song ==

 

== About the Song ==

 

[[Image:I'llSleepWhenI'mDead.png|thumb|150px|right|Compilation album]]

 

[[Image:I'llSleepWhenI'mDead.png|thumb|150px|right|Compilation album]]

−

The song contains Zevon's trademark cynicism and morbid fascination. The song features a man refusing to rest from his damned deeds with the note that he'll sleep when he's dead. The song suggests that with life so short and with only so many [[:wikipedia:Saturday|Saturday]] nights to "raise a little harm" there is no time for sleep. It also notes that if he stops being able to keep up his act and starts "acting stupid" that he'll shoot himself. The recorded version of the song also contains long streams of incomprehensible muttering by Zevon. The title of the song became one of Zevon's most frequently quoted and the title most ascribed to his personality. The title was later used as a [[:category:Warren Zevon Compilation Albums|compilation album]] name ''[[I'll Sleep When I'm Dead (An Anthology)]]'' and as the header for [[Crystal Zevon]]'s biography of her late ex-husband ''[[I'll Sleep When I'm Dead: The Dirty Life and Times of Warren Zevon]]''. The song also appears on ''[[A Quiet Normal Life: The Best of Warren Zevon]]'' and on the live album ''[[Stand in the Fire]]''.

+

The song contains Zevon's trademark cynicism and morbid fascination. The song features a man refusing to rest from his damned deeds with the note that he'll sleep when he's dead. The song suggests that with life so short and with only so many [[:wikipedia:Saturday|Saturday]] nights to "raise a little harm" there is no time for sleep. It also notes that if he stops being able to keep up his act and starts "acting stupid" that he'll shoot himself. The version of the song also contains long streams of incomprehensible muttering by Zevon most .

 
+
 
+

The title of the song became one of Zevon's most frequently quoted and the title most ascribed to his personality. The title was later used as a [[:category:Warren Zevon Compilation Albums|compilation album]] name ''[[I'll Sleep When I'm Dead (An Anthology)]]'' and as the header for [[Crystal Zevon]]'s biography of her late ex-husband ''[[I'll Sleep When I'm Dead: The Dirty Life and Times of Warren Zevon]]''. The song also appears on ''[[A Quiet Normal Life: The Best of Warren Zevon]]'' and on the live album ''[[Stand in the Fire]]''.

 
 
 

== Lyrics ==

 

== Lyrics ==
---
Latest revision as of 22:30, 2 March 2010
"I'll Sleep When I'm Dead" is a song from Warren Zevon's 1976 self-titled album.
About the Song[]
The song contains Zevon's trademark cynicism and morbid fascination. The song features a man refusing to rest from his damned deeds with the note that he'll sleep when he's dead. The song suggests that with life so short and with only so many Saturday nights to "raise a little harm" there is no time for sleep. It also notes that if he stops being able to keep up his act and starts "acting stupid" that he'll shoot himself. The studio version of the song also contains long streams of incomprehensible muttering by Zevon, though most other versions do not feature this.
The title of the song became one of Zevon's most frequently quoted and the title most ascribed to his personality. The title was later used as a compilation album name I'll Sleep When I'm Dead (An Anthology) and as the header for Crystal Zevon's biography of her late ex-husband I'll Sleep When I'm Dead: The Dirty Life and Times of Warren Zevon. The song also appears on A Quiet Normal Life: The Best of Warren Zevon and on the live album Stand in the Fire.
Lyrics[]
Note: the text of this song's lyrics is not under the same copyright license as the wiki's encyclopedic text, it is used under fair use/dealing.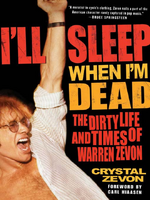 So much to do, there's plenty on the farm
I'll sleep when I'm dead
Saturday night I like to raise a little harm
I'll sleep when I'm dead

I'm drinking heartbreak motor oil and Bombay gin
I'll sleep when I'm dead
Straight from the bottle, twisted again
I'll sleep when I'm dead

Well, I take this medicine as prescribed
I'll sleep when I'm dead
It don't matter if I get a little tired
I'll sleep when I'm dead

I've got a .38 special up on the shelf
I'll sleep when I'm dead
If I start acting stupid
I'll shoot myself
I'll sleep when I'm dead

So much to do, there's plenty on the farm
I'll sleep when I'm dead
Saturday night I like to raise a little harm
I'll sleep when I'm dead