"Keep Me in Your Heart" is the final track of Warren Zevon's final album The Wind, released in 2003.
About the Song
[
]
Zevon intended the song to be his final farewell. He told VH1 that "I don't think anybody knows quite what to do when they get the diagnosis. I picked up the guitar and found myself writing this kind of farewell. Instantly I realized I'd found what to do with myself. On reflection it might be a little bit of a 'woe is me' song, but it made me realize what I was going to do with the rest of the time. It may be the last song on the album, but it was the first song I wrote."
The song would serve as the title for the 2003 documentary Warren Zevon: Keep Me In Your Heart. The song would also appear on the 2006 compilation album Reconsider Me: The Love Songs. It was also featured in the 2009 film Funny People alongside another Warren Zevon song Numb as a Statue. Both were included in the soundtrack release. It also appeared twice on the tribute album Enjoy Every Sandwich: Songs of Warren Zevon, first as a performance by Jorge Calderón and Jennifer Warnes and second as a strings only version arranged by Van Dyke Parks. It was also used in an NCIS episode, Honor Thy Father and an episode of Constantine, A Whole World Out There. The song is also available in sheet form in The Warren Zevon Guitar Songbook.
Song Lyrics
[
]
Note: the text of this song's lyrics is not under the same copyright license as the wiki's encyclopedic text, it is used under fair use/dealing.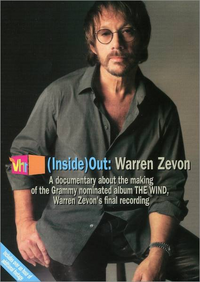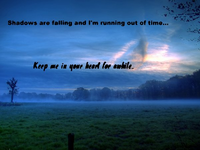 Shadows are falling and I'm running out of breath
Keep me in your heart for awhile

If I leave you it doesn't mean I love you any less
Keep me in your heart for awhile

When you get up in the morning and you see that crazy sun
Keep me in your heart for awhile

There's a train leaving nightly called when all is said and done
Keep me in your heart for awhile

Sha-la-la-la-la-la-la-li-li-lo
Keep me in your heart for awhile

Sha-la-la-la-la-la-la-li-li-lo
Keep me in your heart for awhile

Sometimes when you're doing simple things around the house
Maybe you'll think of me and smile

You know I'm tied to you like the buttons on your blouse
Keep me in your heart for awhile

Hold me in your thoughts, take me to your dreams
Touch me as I fall into view
When the winter comes keep the fires lit
And I will be right next to you

Engine driver's headed north to Pleasant Stream
Keep me in your heart for awhile

These wheels keep turning but they're running out of steam
Keep me in your heart for awhile

Sha-la-la-la-la-la-la-li-li-lo
Keep me in your heart for awhile

Sha-la-la-la-la-la-la-li-li-lo
Keep me in your heart for awhile

Keep me in your heart for awhile
See Also
[
]