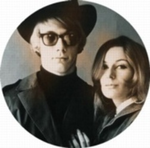 lyme & cybelle was a short lived male/female folk/pop duo which was one of the early projects of Warren Zevon. Zevon was "Stephen lyme" and "cybelle Santangelo" was Violet Santangelo (currently active in musical theater using the stage name Laura Kenyon). Both Zevon and Santangelo were high school students at the time.
They were insistent that the names were not to be capitalized, although "Lyme and Cybelle" often appears in print. They recorded three singles on the White Whale label in 1966. There has been confusion that cybelle was actually Zevon's common-law wife, Marilyn "Tule" Livingston Dillow (they were in long-term relationship but never married: Crystal Zevon is the only woman he legally married although Marilyn "Tule" Livingston is often erroneously listed as his "first wife") (who died of breast cancer in 2004 at age 57). However, this is not the case.
lyme & cybelle are best known for their song "Follow Me" which was a minor hit (#65 in 1966) and is featured on the Nuggets: Original Artyfacts from the First Psychedelic Era, 1965-1968 box set.
Warren Zevon was replaced by Wayne Erwin after the first two singles, despite a solid songwriting partnership between Zevon and Santangelo. This led to a more pop oriented sound that included a full band. However this arrangement was short lived. Santangelo was fired by Erwin, effectively ending the duo.
The lyme & cybelle song "Like The Seasons" was covered by The Turtles, along with Warren Zevon's "Outside Chance".
See Also