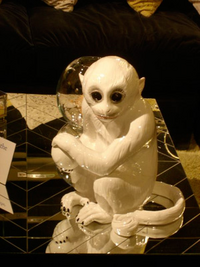 "Porcelain Monkey" is a song by Warren Zevon and Jorge Calderón from the album Life'll Kill Ya.
About the Song
[
]
The song itself is an homage to the singer Elvis Presley, specifically referring to his fall from grace. The song was inspired by a postcard possessed by Jorge Calderón that depicted Graceland's TV room as is mentioned in the song. While Jorge was working with Zevon on a never completed "violent and terrible song", Warren noticed the postcard and asked about it. In the center of the room, on the coffee table, was a white porcelain monkey figurine with onyx eyes. Coincidentally, the songs "Gorilla", "Gorilla, You're a Desperado", "Leave My Monkey Alone", and "Monkey Wash Donkey Rinse" also mentioned monkeys and other primates. The song "Jesus Mentioned" is also supposedly a homage to Elvis.
Song Lyrics
[
]
Note: the text of this song's lyrics is not under the same copyright license as the wiki's encyclopedic text, it is used under fair use/dealing.
He was an accident waiting to happen
Most accidents happen at home
Maybe he should've gone out more often
Maybe he should've answered the phone

Hip-shakin' shoutin' in gold lame'
That's how he earned his regal sobriquet
Then he threw it all away
For a porcelain monkey

He threw it away for a porcelain monkey
Gave it all up for a figurine
He traded it in for a night in Las Vegas
And his face on velveteen

From a shotgun shack singing Pentecostal hymns
Through the wrought iron gates to the TV room
He had a little world, it was smaller than your hand
It's a rockabilly ride from the glitter to the gloom

Left behind by the latest trends
Eating fried chicken with his regicidal friends
That's how the story ends
With a porcelain monkey

He threw it away for a porcelain monkey
Gave it all up for a figurine
He traded it in for a night in Las Vegas
And his face on velveteen

Hip-shakin' shoutin' in gold lame'
That's how he earned his regal sobriquet
Then he threw it all away
For a porcelain monkey

He threw it away for a porcelain monkey
Gave it all up for a figurine
He traded it in for a night in Las Vegas
And his face on velveteen
See Also
[
]
External Links
[
]