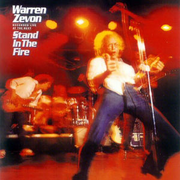 Stand in the Fire is a live album by American singer/songwriter Warren Zevon, released December 26, 1980. It was recorded during a series of performances at The Roxy Theatre in West Hollywood, California and featured two new original songs ("Stand in the Fire" and "The Sin") and one new cover ("Bo Diddley's a Gunslinger"). The album was dedicated to Martin Scorcese. It was released in a limited edition, LP replica sleeve on CD April 25, 2006 in Japan. A remastered and expanded edition was released on March 26, 2007 in the U.K., March 27, 2007 in the U.S.
Track listing
Edit
All songs written by Warren Zevon unless otherwise indicated.
"Jeannie Needs A Shooter" (Bruce Springsteen, Zevon)
"Excitable Boy" (LeRoy Marinell, Zevon)
"Werewolves of London" (Marinell, Waddy Wachtel, Zevon)
"The Sin"
"Bo Diddley's A Gunslinger / Bo Diddley" (Bo Diddley)
Bonus Tracks on 2007 Remastered Edition
Edit
Personnel
Edit
Warren Zevon – bass, guitar, piano, keyboards, vocals, 12 string guitar
David Landau – guitar
Zeke Zirngiebel – guitar, electric guitar, rhythm guitar, steel guitar, vocals, 12 string guitar
Bob Harris – synthesizer, piano, keyboards, backing vocals
Roberto Piñón – bass, backing vocals
Marty Stinger – drums
Album
| Year | Chart | Position |
| --- | --- | --- |
| 1981 | Billboard Pop Albums | 80 |
---
<< Bad Luck Streak in Dancing School | The Envoy >>
Learning to Flinch >>
Community content is available under
CC-BY-SA
unless otherwise noted.