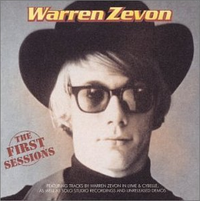 The First Sessions is a compilation album of Warren Zevon's early works from the 1960s released in 2003. It contains tracks recorded while Zevon was in lyme & cybelle and many other tracks created before Wanted Dead or Alive, as well as an early demo for "A Bullet for Ramona". The album also includes two lyme & cybelle songs from after Wayne Erwin replaced Zevon as lyme.
Track listing
Edit
Personnel
Edit
Warren Zevon - vocals, guitar, bass
Bob Thompson - conductor
Tommy Tedesco - guitar
Dennis Budimir - guitar
Lenny Malarsky - violin
Joe DiFiore - viola
Joe Saxon - cello
Jessie Erlich - cello
Ollie Mitchell - trumpet
Jules Chaiken - trumpet
Dick Leith - trombone
Lou Blackburn - trombone
Larry Knechtel - piano, organ
Lyle Ritz - bass
Bones Howe - drums, percussion
Toxie French - drums
Michelle O'Malley - background vocals
Sandy Salisbury - background vocals
Violet Santangelo - vocals
Wayne Erwin - vocals
Producers: Bones Howe, Warren Zevon, Curt Boettcher.
Compilation producers: Cary E. Mansfield, Bones Howe.
Principally recorded in 1966. Includes liner notes by Dawn Eden.
Liner Note Author: Dawn Eden.
Photographer: Laura Kenyon (Violet Santangelo)
---
<< The Wind | Dad Get Me Out Of This: The String Quartet Tribute To Warren Zevon >>
<< Genius: The Best of Warren Zevon | Reconsider Me: The Love Songs >>
Community content is available under
CC-BY-SA
unless otherwise noted.