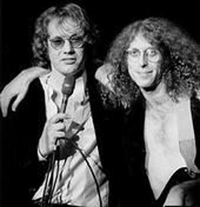 Robert "Waddy" Wachtel (born May 24, 1947 in Jackson Heights, Queens, New York City) is a Los Angeles musician, composer and record producer, most notable for his guitar work. Wachtel co-wrote several songs with Warren Zevon including "Werewolves of London," for which he wrote the opening verse (which was voted by BBC Radio 2 listeners as the greatest ever in 2004). He also co-wrote the Warren Zevon song "Things to Do in Denver When You're Dead", and is mentioned by name in the line "I saw Waddy in the Rattlesnake Cafe". He performed and co-produced on the first two Zevon albums, considered his classics, and was a major contributor to the Warren Zevon sound. He is much quoted throughout the book on Zevon's life, written by Crystal Zevon, entitled I'll Sleep When I'm Dead: The Dirty Life and Times of Warren Zevon.
Community content is available under
CC-BY-SA
unless otherwise noted.